Molasses-Glazed Ribs
Growing up in southern Germany, one of my favorite things to do during the summer was going to the beer garden. We would bring some of our own food (which is German tradition) and also buy some of the specialties the beer garden had to offer. One of these must-have dishes we would share was a rack of BBQ spareribs.
I have never tried making ribs until the lockdown happened when I ordered a rack of ribs from Farm to People. Even though I went with a different glaze option it brought me back to those sweet memories I had of my childhood and my home. My husband was equally as excited and this recipe has quickly become one of our favorites.
The glaze has so much flavor and the meat is super juicy. But the best part about this molasses-glazed ribs recipe is that it is super easy to make. I cannot wait for you to try it.
If you have never cooked or baked with blackstrap molasses before, let me introduce you to this healthy sweetener. I have been on a mission to optimize my diet for the past year. One thing that I consistently could not get enough of from my diet is calcium. When you don't eat dairy products it is not that easy to get enough calcium into your diet. I will write more about this another time. One of the foods I discovered that has a lot of calcium is blackstrap molasses. So instead of simply eating one tablespoon of blackstrap molasses as a therapeutic food (which I don't find very delicious), I decided to incorporate it into more recipes. There will be more recipes featuring this powerhouse ingredient in the near future, so stay tuned.
What are blackstrap molasses?
You might ask yourself what the heck are blackstrap molasses anyway? Blackstrap molasses are a byproduct of sugar cane processing. There are different types of molasses depending on how often they have been boiled. Blackstrap molasses have been boiled three times and are the most nutrient-dense of molasses with the lowest sugar content. Besides calcium, they are packed with other minerals such as copper, iron, magnesium, manganese, and potassium. You can find them in most health food stores. Look for an unsulfured variety.
These molasses-glazed ribs are made in the oven, so you can enjoy them without having access to a BBQ grill. The secret to the juiciness is to cover them for most of the roasting time. To avoid the use of aluminum foil I cover the ribs with a baking sheet. So for this recipe, you will need two baking sheets.
I hope you enjoy these delicious ribs. Let me know what you think in the comment section below. And as always don't forget to tag me in your food pictures on Instagram
Happy cooking
~Annika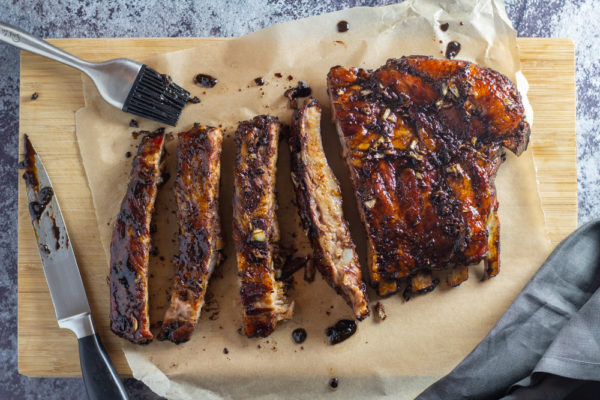 Cook Time

2

hours and 10 minutes
| | |
| --- | --- |
| Servings | rack of ribs (2-3 people) |
Cook Time

2

hours and 10 minutes

| | |
| --- | --- |
| Servings | rack of ribs (2-3 people) |
Preheat the oven to 300 degrees Fahrenheit.

In a small bowl mix together the blackstrap molasses, honey, coconut aminos, salt, and lemon juice. Peel and mince the onion and garlic and add to the glaze.

Line a large baking sheet with parchment paper. Place the ribs on the baking sheet and baste both sides of the ribs with about half of the glaze. Cover the baking sheet and the ribs using another baking sheet and roast for 1 hour in the middle of the oven.

After one hour, baste the top of the ribs with half of the remaining glaze. Roast covered for another hour.

Remove the baking sheet, baste with the rest of the glaze and roast uncovered for 10 minutes on 400 degrees.