Healthy Holiday Recipes
Who doesn't love a great thanksgiving dinner or holiday meal? The holiday season is not known to be the healthiest time of the year food-wise, but what if I told you that you can have a healthy yet super delicious Thanksgiving this year? No more food babies or feeling bloated. No more suffering the consequences if you have food sensitivities. No more deprivation of your favorite foods and having to watch other people eat them in front of your nose. I put together the best healthy holiday recipes for you guys. All of them feature nutritious ingredients and are grain-free, gluten-free, dairy-free, refined sugar-free and most are AIP. They all taste super delicious, you won't know the difference from the traditional versions. Have a happy healthy holiday and make sure you share the recipes with your loved ones.
Some of the recipes below are sneak-peeks of my holiday cookbook. For more healthy allergen-free holiday recipes make sure you grab a copy of my cookbook "ENJOY – healthy festive meals for you and your loved ones"
1. Butternut Squash Soup
This delicious yet healthy butternut squash sweet potato soup is the all-time favorite in my household. It is AIP.
2. Marinated Beet Salad with Figs and Pecans
This Marinated Beet Salad with Figs and Pecans tastes delicious looks pretty, and is packed with nutrients. It features arugula, spinach, beets, figs, pomegranate, pecans and is AIP.
3. Creamy Sweet Potato Soup
This creamy sweet potato soup is the perfect holiday/fall recipe. It is warming, healthy but most of all very delicious. Your guests are going to love it. It is AIP.
4. Grain-Free Stovetop Stuffing
This delicious grain-free stuffing recipe tastes just like the regular one. You won't believe that it is dairy free, gluten free, and Paleo. It is a must-have for Thanksgiving. Click here for the recipe. For a yeast-free, and AIP version of this recipe make sure you grab my cookbook.
5. Roasted Sweet Potatoes and Brussels Sprouts
Roasted sweet potatoes and brussels sprouts are a simple, healthy yet delicious side dish for a holiday feast. This dish is AIP.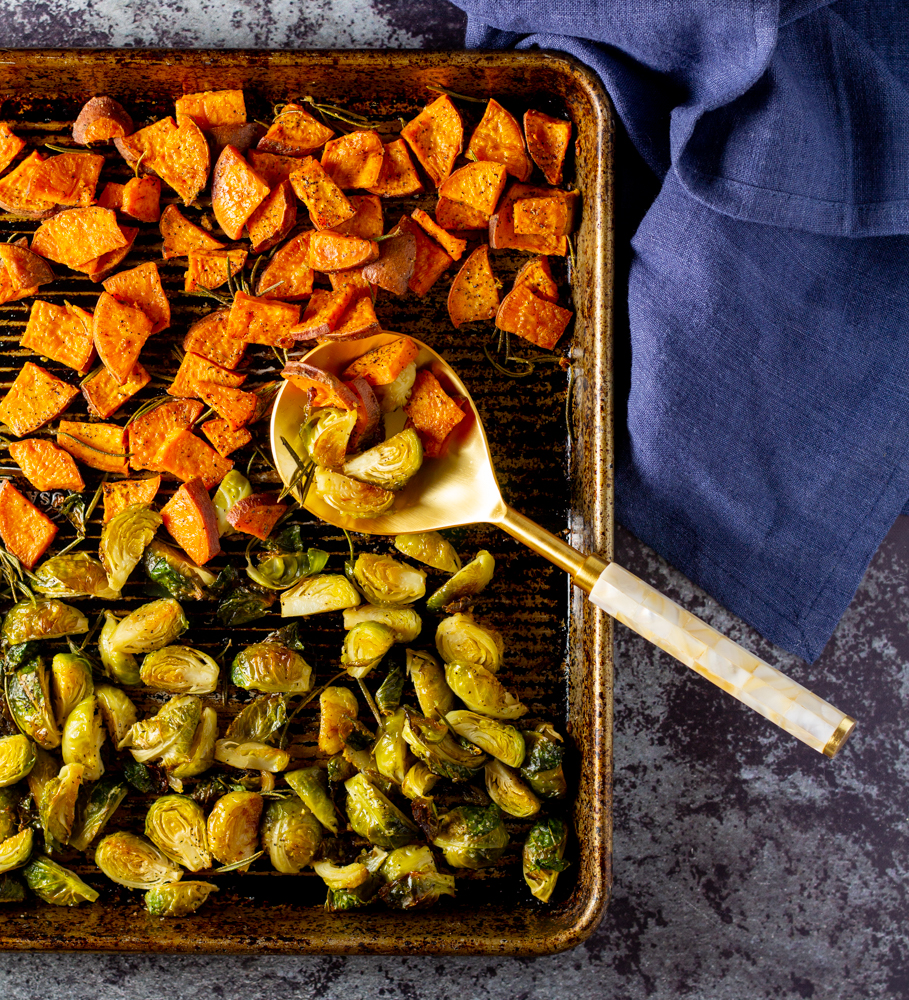 6. Rosemary Garlic Roasted Butternut Squash
This delicious rosemary garlic roasted butternut squash recipe is the perfect side dish for a fall/holiday meal. It is AIP.
7. Mom's Special Gravy
My mom's special gravy is the most delicious sauce for the holiday season. It is simple, full of healthy ingredients, and AIP.
8. Cranberry Sauce
This homemade cranberry sauce is really simple and only has 5 ingredients: Cranberries, orange, water, honey, and cinnamon. It is the perfect addition to your holiday meals. It is AIP.
9. Herb-Roasted Chicken
This delicious herb-roasted chicken is very easy to make. Rosemary, thyme, sage, garlic, and lemon give this dish amazing flavors. It is gluten free, dairy free, Paleo, and AIP. If you are having a small Thanksgiving and don't want to deal with making a Turkey, this recipe is a great replacement.
10. Apple Crisp
This delicious apple crisp recipe is the perfect fall/holiday dessert. It is AIP friendly.
11. Gingerbread Squares
Whenever I bring these gingerbread squares they are gone within minutes. You will never guess that they are grain free, gluten, dairy, and nut free. They are so incredibly delicious and a must for the holiday season.
Are you enjoying my ad-free content? To keep it like this, here are some ways you can support my work: