Dairy-free Yogurt and Herb Dip
This dairy-free yogurt and herb dip recipe (credits go to my mom) is delicious and full of probiotics and fresh herbs. It goes great with potatoes, sweet potatoes, or your favorite meat at a BBQ.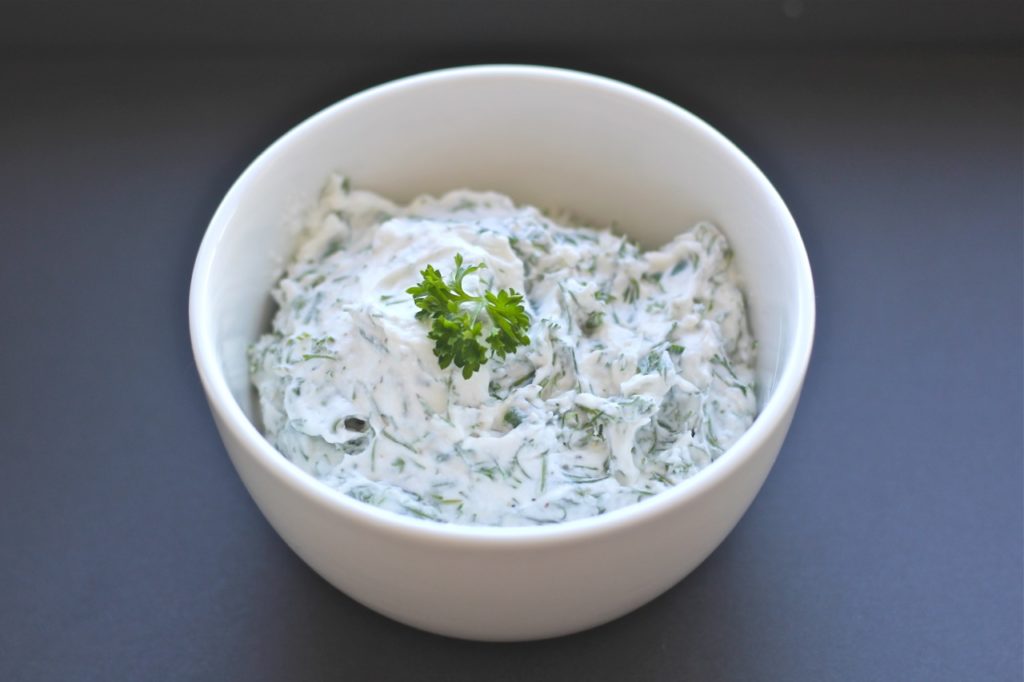 Dairy-free Yogurt and Herb Dip
I am really excited to share something very special with you guys! This recipe is a dairy and soy-free version of my all-time favorite childhood comfort food. We call this "Kräuterquark" in Germany and it is seriously the best thing ever! You could describe my version as a dairy-free yogurt and herb dip. The original ingredient in this is quark, which is a dairy product that is very typical in Germany and some other European countries. Taste-wise it is a little bit similar to yogurt and cottage cheese. My mom used to always make this recipe for me, typically with boiled potatoes some butter, and salt. YUM! Thanks, mom for this amazing recipe!!!! <3
I recently was craving this so much when I was sick, so I tried to recreate it with coconut yogurt, and I was surprised how delicious it was. Depending on the consistency of your yogurt it will be either a little bit more firm or close to a sour cream dip. Both will taste delicious and go really well with potatoes of any kind or sweet potatoes if you cannot have nightshades.
The secret of my mom's special sauce is to add lots of fresh herbs, lemon, and quality salt. I am eating this dip all the time with sweet potatoes and salmon for example. But most importantly it cannot be missed at any BBQ that I am part of.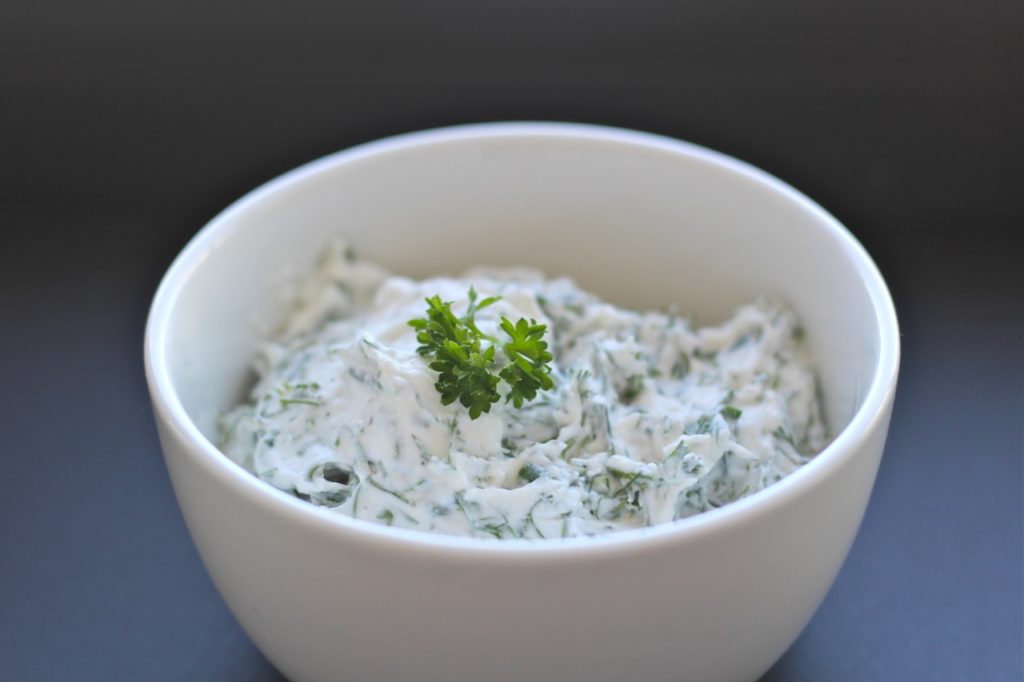 Ingredients in This Homemade Dip
No need for store-bought dips with tons of chemicals anymore. This dip is easy and quick to make and only has 5 ingredients.
Coconut yogurt or yogurt (if you tolerate dairy): If you use coconut yogurt the brand you choose is crucial to this dip tasting either fantastic or not so great. Cocojune is my absolute favorite brand, Anitas and Coyo are great as well. Choose the plain/natural variety. When looking for a regular yogurt opt for full-fat from grass-fed cows. For both coconut yogurt and regular yogurt check the ingredients listed in the back and stick to the general rule of thumb: The fewer ingredients the better. The best coconut yogurt brands will only have coconut, water, and probiotic cultures, sometimes tapioca or cassava. This is an example of some of the names that can be listed as probiotic cultures B. bifidum, B. lactis, L. acidophilus, L. casei, L. delbrueckii subsp. bulgaricus, L. rhamnosus, Streptococcus thermophilus. Don't be scared by these complicated names, those are great for you. If you live in NYC check out Farm to People. I get most of my stuff from there.
Fresh herbs: Chives, parsley, and dill give this dip its signature flavor. I have added cilantro to the mix as well which I loved.
Lemon: The lemon is absolutely vital for this dip. Especially for the coconut yogurt version, you won't taste any coconut at all anymore.
Salt and pepper: Sea salt or Himalayan pink salt and pepper to finish off the taste (omit the pepper on the AIP). If it tastes bland, salt it more. But be careful to not oversalt.
More Dairy-free Dips
I cannot wait for you to try this recipe and would love to get your feedback, please leave a comment below. And as always don't forget to tag me in your food pictures on Instagram
Happy blending
~Annika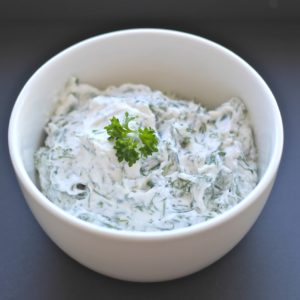 Dairy Free Yogurt and Herb Dip
This dairy-free yogurt and herb dip family recipe (credits go to my mom) is delicious and healthy. It goes great with potatoes, sweet potatoes, or your favorite meat at a BBQ.
Ingredients
1.5

cups

coconut yogurt

(without additives, see notes for more info)

1/2

cup

chopped dill

1/2

cup

chopped curly parsley

1/2

cup

chopped chives

1/2

lemon, squeezed

1/2

tsp

sea salt

1/2

tsp

pepper

(omit pepper if you follow the AIP)
Instructions
Place the coconut yogurt in a medium bowl. Add lemon juice, salt and pepper to taste.

Wash and cut the herbs into very fine pieces and add to the coconut yogurt.

Mix well and taste. Add more lemon juice or salt if necessary.

Enjoy
Notes
Different brands of coconut yogurt vary tremendously in their taste and consistency.  Watch out for additives and other unnecessary ingredients. My favorite brand at the moment is Cocojune followed by Anita's and Coyo. For more info scroll up and check out the section in this post where I talk more about the ingredients.
Are you enjoying my ad-free content? To keep it like this, here are some ways you can support my work: