Grain-free Rhubarb Cake
This delicious grain-free rhubarb cake is the perfect spring dessert recipe. It is gluten-free, dairy-free and Paleo-friendly. It is Paleo dairy free, gluten free and nut free. If you have reintroduced eggs on the AIP you can try this delicious cake as well.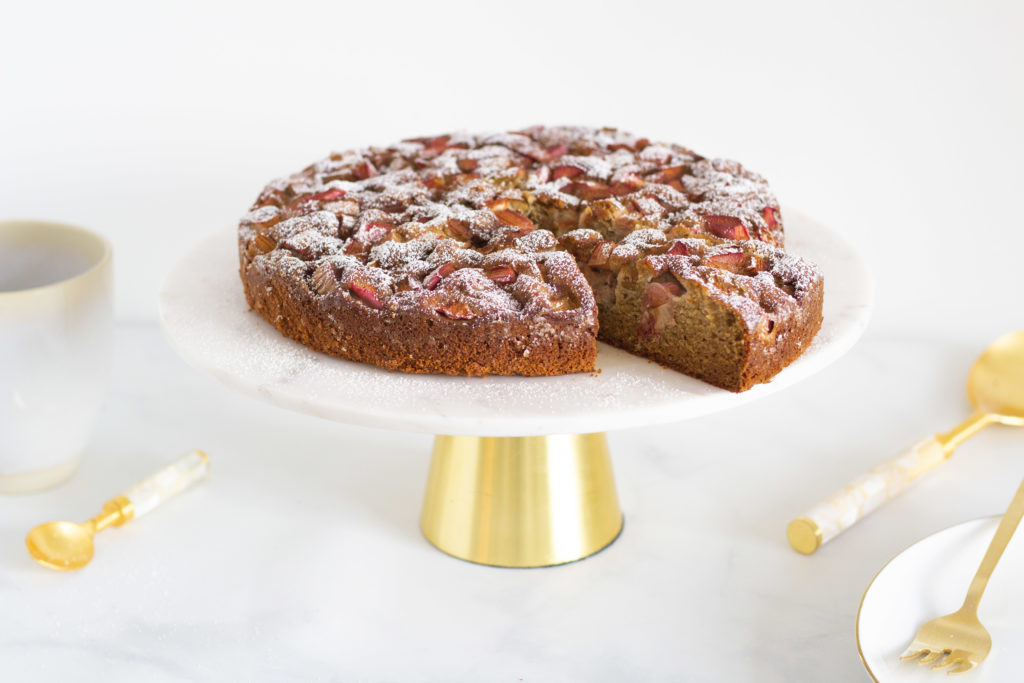 I love rhubarb! Not only for its delicious taste but also because it means that summer is right around the corner. If you have never tried rhubarb before, head to your local farmers market and grab a few stalks (4-5 if you want to make this recipe). The mix between the sweetness of the cake and the acidity of the rhubarb makes for a perfect combination. This recipe tastes more like a traditional rhubarb cake and because I was going for that fluffy texture I decided to use eggs. So if you for some reason cannot eat eggs then make sure to check out my strawberry rhubarb crisp recipe. It is AIP friendly.
This grain-free rhubarb cake uses a combination of a few different grain-free flours: Tigernut flour, cassava flour, arrowroot flour, and coconut flour. You can find all of these at most health food stores and places like Wholefoods market of course. I recently started using tigernut flour a lot more in my recipes and I really love it. Tigernuts are actually not nuts so if you have a nut allergy this is a great flour for you. It is full of fiber and vitamins and minerals and tastes and behaves very similarly to nut flour.
This grain-free rhubarb cake recipe is easy to whip up for your next weekend baking session. I would love to hear from you in the comment section below if you make this recipe. Also, make sure to tag me in your food pictures on Instagram.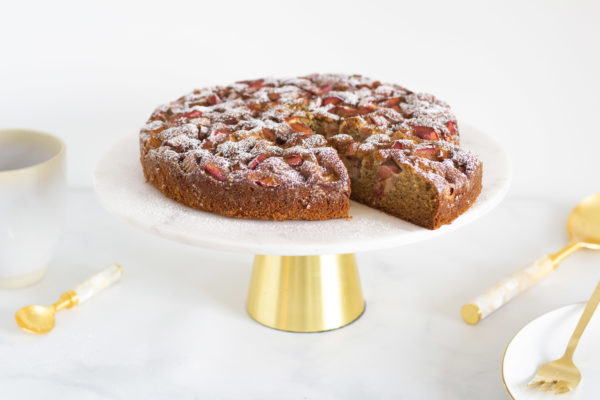 | | |
| --- | --- |
| | |
Wash and trim both ends of the rhubarb stalk. Cut the rhubarb into 1/2 inch chunks. If some of your stalks are very thick you can slice the whole thing in half. You want to make sure your rhubarb pieces are equally sized.

Preheat oven to 350 degrees Fahrenheit.

In a large bowl whisk the eggs. Let them come to room temperature for a couple of minutes before adding the coconut oil to avoid the hardening of the oil.

In the meantime, in another large bowl, combine all the dry ingredients: Tigernut flour, cassava flour, arrowroot flour, coconut flour, salt, and baking soda. Mix thoroughly.

Add coconut milk, melted coconut oil, vanilla, and honey to the egg mix and whisk until smooth. Combine with the flour mix and whisk until you have a smooth/thick batter. Finally, fold in half of the rhubarb and make sure it is distributed evenly.

Grease a round 9-inch cake pan with coconut oil and flour it with arrowroot flour.

Pour the batter into the cake pan. Use a spoon to distribute it since it will be quite thick. Add the rest of the rhubarb evenly on top and slightly press it into the batter.

Bake for about 55 minutes or until a cake tester/toothpick comes out without batter on it.

Let it cool off and right before serving dust with powdered sugar using a sieve.