Crunchy Grain-free Crackers
These crunchy and thin grain-free crackers are the real deal. They are super easy to make and are suitable for anyone on a Paleo, AIP, gluten, and grain-free diet. My favorite way to eat them is with my cranberry chicken liver pâté.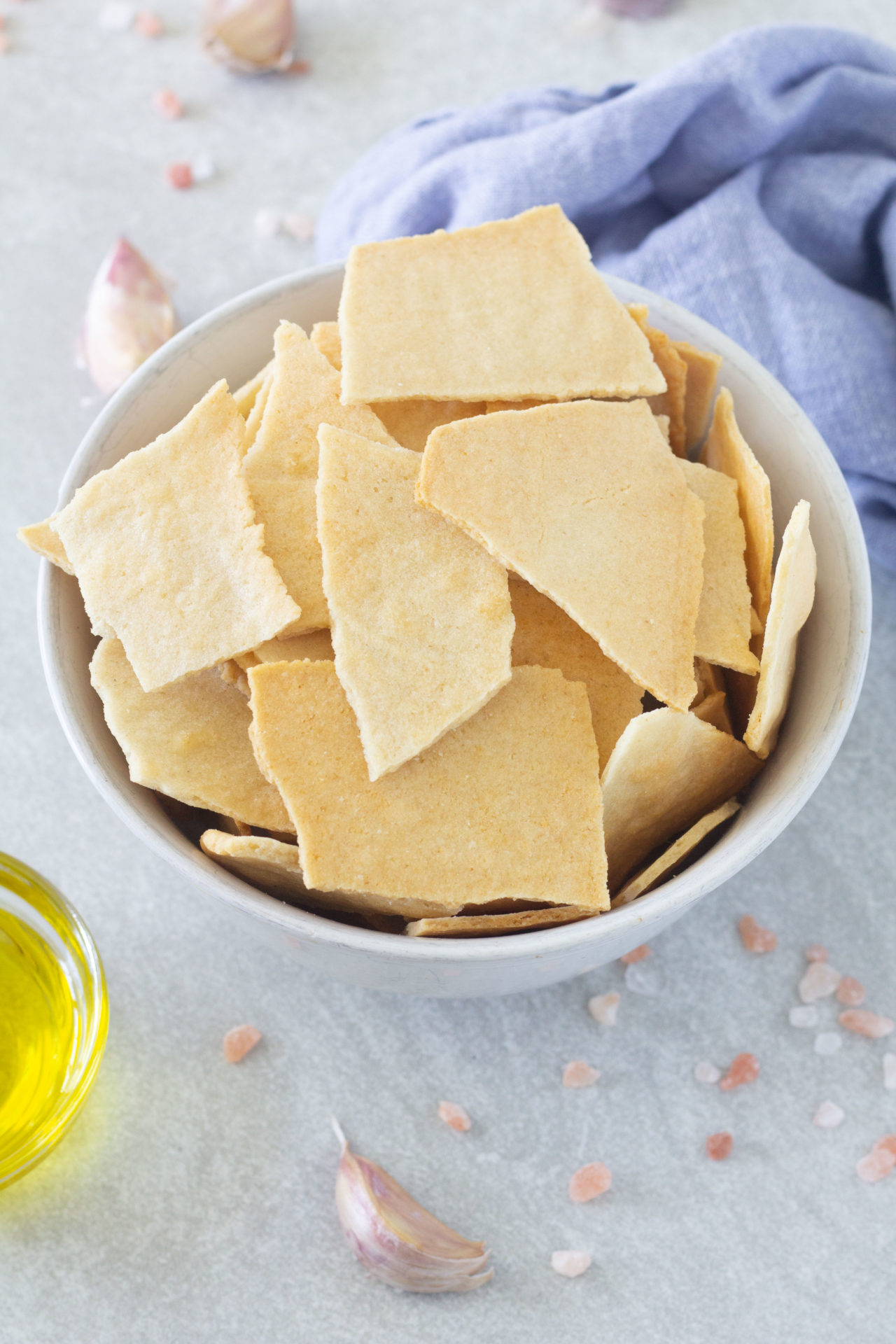 Crunchy Grain-free Crackers
I am so excited to share this recipe with you guys. These crackers are the shizzle! Be warned, it is very hard to not eat the whole batch. If you want to make these to always have crackers on hand, my recommendation is to put them in an airtight container right after you are done making them and place them somewhere where they are out of sight. 😉
I invented these crackers to accompany my liver pâté recipe. I have been trying to incorporate organ meats into my diet for a while now because of their amazing nutrient profile. Pâté is the only way I enjoy eating liver so I really needed some type of cracker to go with it…. and tada this super duper delicious cracker recipe was born.
Taste-wise these crackers remind me of Grissini breadsticks, let me know in the comment section below if you agree. My brother and I used to fight over them in Italian restaurants back in my non-gluten-free days. So recreating a similar taste is so very exciting to me.
Watch Me Make These Crackers
How to Make These Crackers
How to get the right shape: When I make recipes I always try to find the easiest way to do it. That's why I ultimately decided to roll out the whole dough very thinly, bake it and then crack it (see picture below). The alternative would have been to cut out each individual cracker cookie-cutter style to make it look super professional. But ain't nobody got time for that ;). If you are really into having square crackers but want quick results like me, you could also use a knife and cut a few horizontal and then vertical lines after rolling out the dough. The options are endless.
How to roll out the dough: Whenever you are working with grain-free dough, keep in mind that it behaves differently than gluten-containing dough. To roll it out it is best to use two sheets of parchment paper, one on the bottom and one on top of the dough (see the pictures below). This is the easiest way to roll out any type of grain-free dough whether you are making cookies or crackers. You can wash, store and reuse the same parchment paper a couple of times to not be wasteful. I like to use this brand of parchment paper because it is biodegradable. You can find it in most health-food stores.
Use Otto's Cassava Flour for the Best Results
Different cassava flour brands behave differently. Some do not absorb a lot of moisture and won't make it possible to work with the dough/ aka you will be left with a watery consistency. I always use Otto's Cassava flour, so I highly recommend you do too. Others may work as well, but I have not tried all of them. But I have had some fails with other brands.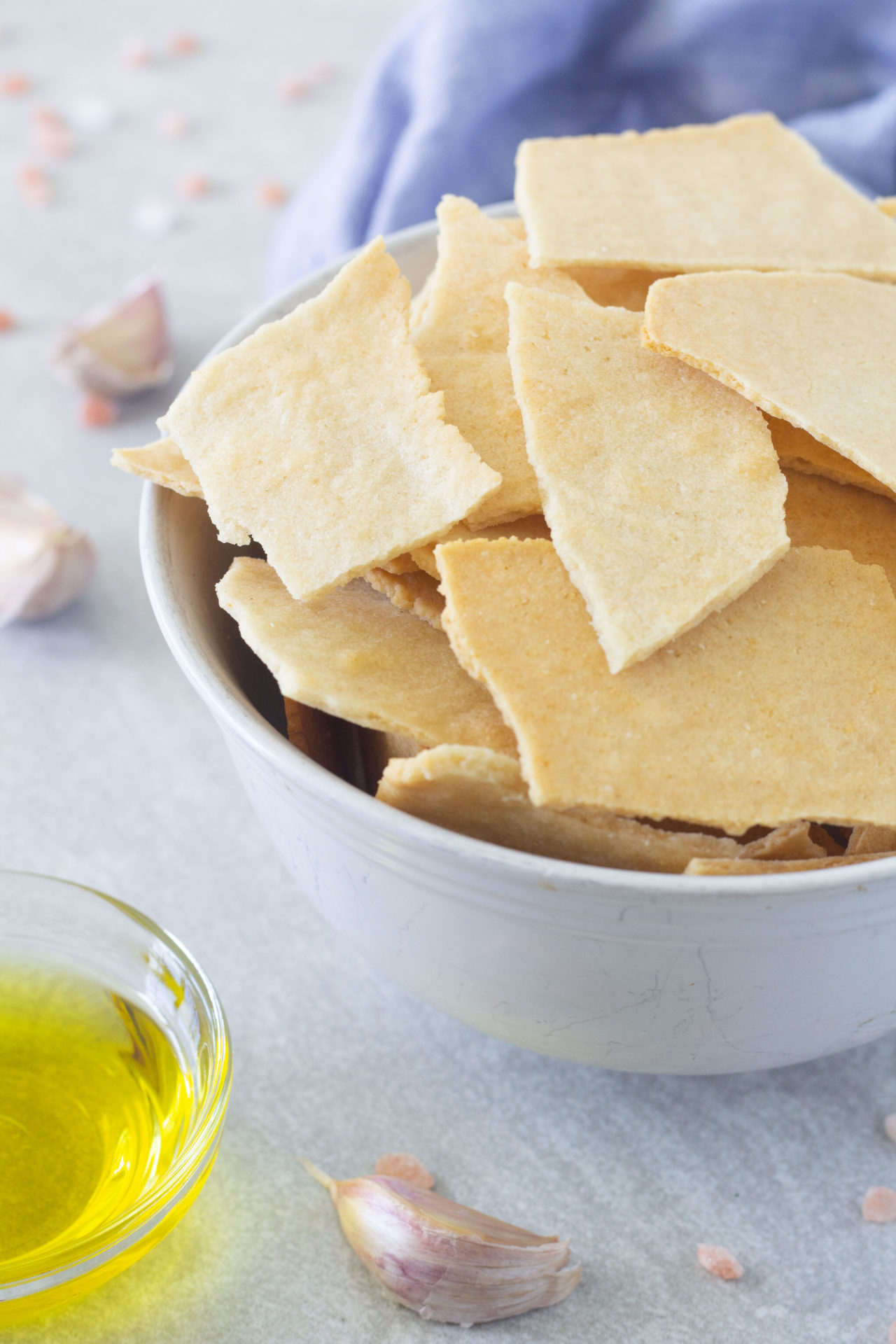 FAQ
Can I substitute the flours? I would not recommend that.
Can I add different spices? Absolutely, you can play around with herbs and spices. Rosemary and oregano would be an amazing addition.
I don't eat lard what can I sub it with? You could just use more olive oil or coconut oil. My readers also tried it with palm shortening.
More Grain-free Snacks
I cannot wait for you to try this recipe and would love to get your feedback, please leave a comment below. And as always don't forget to tag me in your food pictures on Instagram.
Happy cooking
~Annika
| | |
| --- | --- |
| | |
Combine the flours, salt, and garlic powder using a whisk. Add olive oil, lard, water and mix well. Make sure the lard is distributed evenly. Form a ball and let it rest for 5 minutes.

Use this time to preheat the oven to 350 degrees, clean up your working area and prepare 3 pieces of parchment paper large enough to cover a baking sheet.

Cut the ball in two. Roll out the first one between two sheets of parchment paper. Roll it out very thinly to get crunchy crackers. Make sure it is rolled out evenly. Leave the rolled-out dough on the same parchment paper and place it on a baking sheet. Now repeat the same with the rest of the dough (you can reuse the parchment paper you used on top of the first piece of dough). Once done place the rolled-out dough on another baking sheet. (For more details see the pictures above)

Place both baking sheets in the oven, 1 in the middle one on the bottom and bake for about 25 minutes or until golden and crispy. The baking time will depend on the thickness of the dough. The baking sheet that is closer to the bottom will be done sooner, so start checking at around 20 minutes. It is done baking when it looks pretty dry and starts curling up on the sides. Leave the baking sheet that is in the middle of the oven in there for about 5 more minutes.

Once you have removed the baking sheets from the oven, let the crackers cool off. Finish up by breaking them into pieces.

Enjoy with your favorite dip or store in an airtight container for up to a week.
You could also use olive oil instead of lard, but the texture is better with lard.
If the crackers are a bit chewy then they haven't been baking long enough. You can pop them back in the oven until they are crunchy.
Different cassava flour brands behave differently. Some do not absorb a lot of moisture and won't make it possible to work with the dough. I use Otto's Cassava flour.