Nutrient-dense Smoothie
Smoothies, the ultimate quick way to get a lot of vegetables in. I didn't use to be the biggest fan of smoothies, but there is just no denying that it is one of the easiest ways to consume a lot of your daily vegetables, especially leafy greens, and most of us are not getting enough of them into our diet.
I created this specific smoothie for people who are new to adding leafy greens to smoothies, that's why I combined it with berries. Green smoothies are definitely an acquired taste. but you can still sneak in a bunch of greens without even tasting it. You can not tell that this smoothie has two cups of kale per serving. I also wanted to make sure it is super tasty and quite sweet, but at the same time full of antioxidants, veggies, and other goodies.
Smoothies can sometimes be full of sugar even if the sugars are natural and it was, therefore, important for me to make it as balanced as possible. I made sure it also has a quality fat source by adding coconut yogurt. If you tolerate dairy you can add regular full-fat plain yogurt, which will give you proteins as well. And the best part of that is that you will get your daily dose of probiotics with the yogurt. When choosing a yogurt or coconut yogurt make sure to read the ingredients. It should be a plain full-fat yogurt without any additives.
A word on smoothies:
Here is why I am normally not such a fan of smoothies. I generally don't like it when smoothies substitute meals. I think they can be a great addition to your meal. Why? Because in order to digest your food properly it is important that you chew your food and don't drink it. Chewing activates a lot of the digestive juices needed for proper digestion. That is why I prefer adding a smoothie with a protein-rich breakfast. I have a lot of clients who have trouble adding enough vegetables to their breakfast and this is a great option for that scenario.
Ingredients of the nutrient-dense smoothie:
Kale (rich in fiber vitamins, minerals, and phytonutrients)
Blueberries (rich in vitamins, minerals, and phytonutrients)
Raspberries (rich vitamins, minerals, phytonutrients)
Coconut yogurt (rich in healthy fat and probiotics)
Beets (high levels of folate and manganese – supports gallbladder function)
Banana (natural sweetener, rich in fiber, vitamins, and minerals)
I hope you enjoy this powerhouse nutrient-dense smoothie. Let me know what you think in the comment section below. And as always don't forget to tag me in your food pictures on Instagram
Happy cooking
~Annika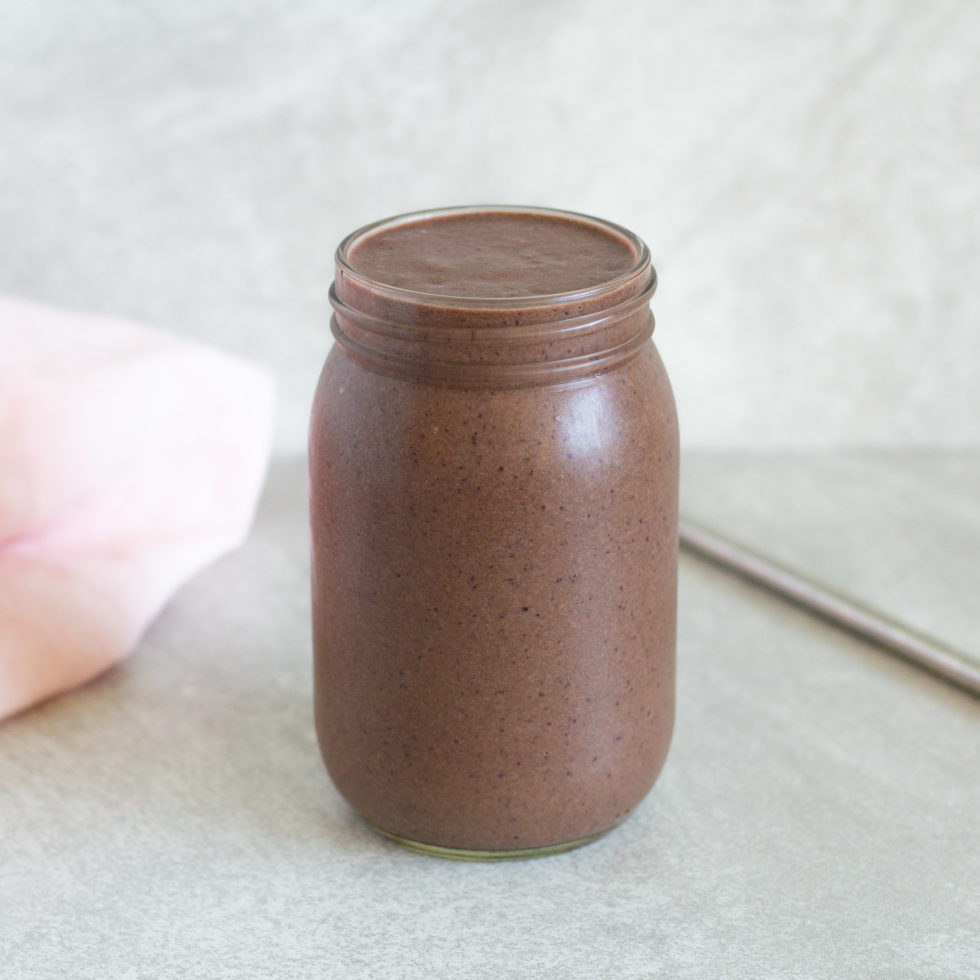 Nutrient-dense Smoothie
If you are looking for an easy and delicious way to add more vegetables and micronutrients to your meals this smoothie is for you. It is full of fiber, vitamins, minerals, and phytonutrients.
Ingredients
4

cups

kale, packed

(approximately 4 leaves)

1

cup

frozen blueberries

(organic)

1

cup

frozen raspberries

(organic)

2/3

cup

coconut yogurt or regular plain yogurt

(8 oz)

1/2

cup

raw beets

(1 beet)

1

banana

(optional or 1/2 banana)

1/2

cup

filtered water

(or 1 cup if you want it thinner)

4

scoops

vital proteins collagen peptides

(optional to add a protein source to the smoothie)
Instructions
Wash the kale and remove the stems. Chop it and place it in the blender. Cut the top and the bottom of the beet. You don't need to peel it.

Add the blueberries, raspberries, coconut yogurt, beets, and water. If you want to add protein to your smoothie add the collagen peptides. Blend until smooth. To adjust the sweetness you can add the banana or half of it to the mix. I recommend doing it without the banana the first time you try it and then add as much of it as you want to until it reaches the desired sweetness.

Enjoy immediately.
Notes
To adjust the sweetness of the smoothie you can either completely leave out the banana or use less of it. I would suggest trying it without the banana first, taste it and check if you want to add it.
You can make it less thick by adding more water.
If you want to make the smoothie more balanced and add a protein source to it you can add your favorite protein powder or collagen peptides to it. If you are using regular yogurt this is not necessary since it has protein. Also, if you use this smoothie as an addition to a high protein meal in order to add more fiber and micronutrients to it then this step is not necessary.
The yogurt or coconut yogurt should be without any additives or sugar. Look for a full-fat plain yogurt and make sure to check the ingredients.
Are you enjoying my ad-free content? To keep it like this, here are some ways you can support my work: