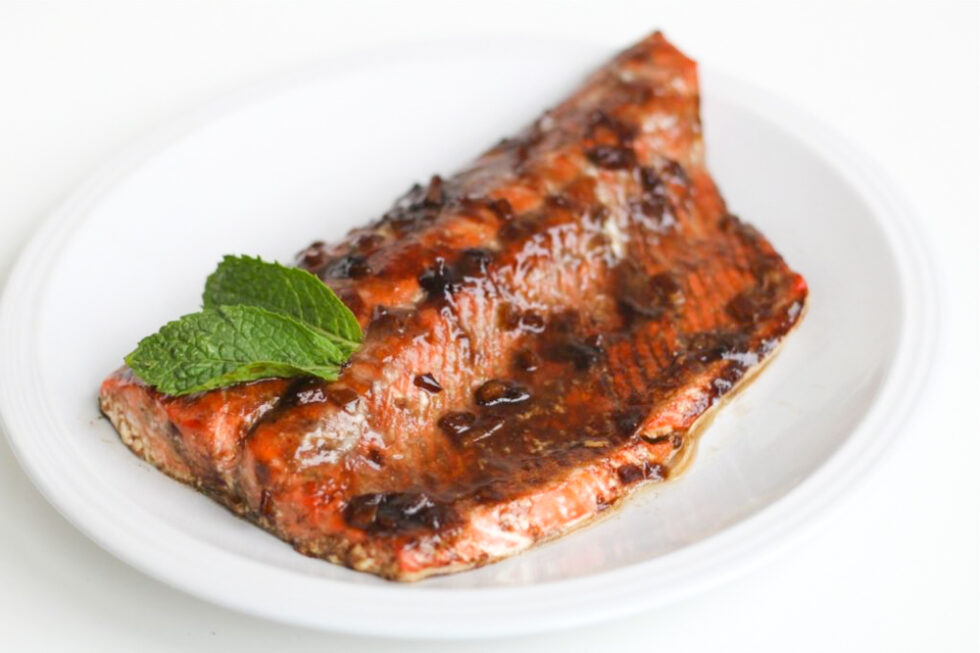 Balsamic-Glazed Salmon
This balsamic glazed salmon recipe is a recent discovery and has become the new favorite dish in our household. It is the perfect recipe for having friends over for dinner. Fancy and super delicious but not very complicated and quite fast to make.
If you are on a gluten-free, dairy-free, or aip diet you are going to love this dish even more. Even though it tastes like you are eating a fancy dish in a restaurant you don't have to worry about any hidden gluten/dairy exposure.
Have you ever wondered why the meat or glazed salmon dishes in the restaurants taste so freaking amazing. Because they put all sorts of stuff on the protein before baking/frying it. Unless you are in a very health conscious restaurant you can almost certainly guarantee that it has gluten or dairy or both. The other day I finally asked if the steak in my favorite brunch place is gluten/dairy free and the answer was nope. So for all of you that are in the same boat as me, now you can make your protein taste as amazing on your own, guilt free!
I normally make a very simple baked salmon, so this version feels more like I am eating in a restaurant. Since the sauce has honey I wouldn't recommend doing this recipe every day, but it is amazing for special occasions.
I have to warn you. This recipe is so delicious you are going to want to eat the whole salmon by yourself. But if you do end up with leftovers, you can use the balsamic glazed salmon to spice up my amazing mason jar rainbow salads.
Now I would like to hear from you. How did you like this balsamic glazed salmon recipe and do you have any questions? Drop a line in the comment section below.
Happy cooking
~ Annika
Balsamic Glazed Salmon
This perfectly balsamic glazed salmon is easy to make and only uses healthy ingredients. It is soy free, gluten free, dairy free and aip friendly.
Ingredients
1

pound

wild caught salmon filets

4 small filets

1

tbsp

avocado oil

1/3

cup

Balsamic vinegar

2

cloves

garlic (small)

(approx 2 tsp finely minced)

2

tsp

honey

1/2

tsp

salt

1/4

tsp

pepper

(omit pepper if you follow AIP)

1

tsp

avocado oil

to grease the baking tray
Instructions
Preheat oven to 400 degrees. Add avocado oil onto a baking tray and place the salmon on it with the skin side down.

Heat avocado oil in small sauce pan over medium/low heat and saute the garlic for about a minute. Add balsamic vinegar, honey, salt and pepper and increase the temperature to medium/high for a few second until bubbles form. Reduce temperature to medium and stir continuously for 3 minutes until the sauce has a thicker consistency.

Brush the top and the side of the salmon with 1/2 of the glaze. Bake it in the oven for 10-20 minutes or until the fish is starting to flake.

Remove from the oven and serve on plate. Add rest of the glaze and any garnish of your choice.

Enjoy with your favorite side
Are you enjoying my ad-free content? To keep it like this, here are some ways you can support my work: