Nightshade-free Marinara Sauce
It is kind of mind-blowing how much something can taste like a tomato without any of it in it. This Nightshade-free marinara sauce is nutrient-dense and suited for anyone who cannot tolerate tomatoes. It is paleo and AIP friendly. Skeptical about Nomato sauces? This one will blow your mind.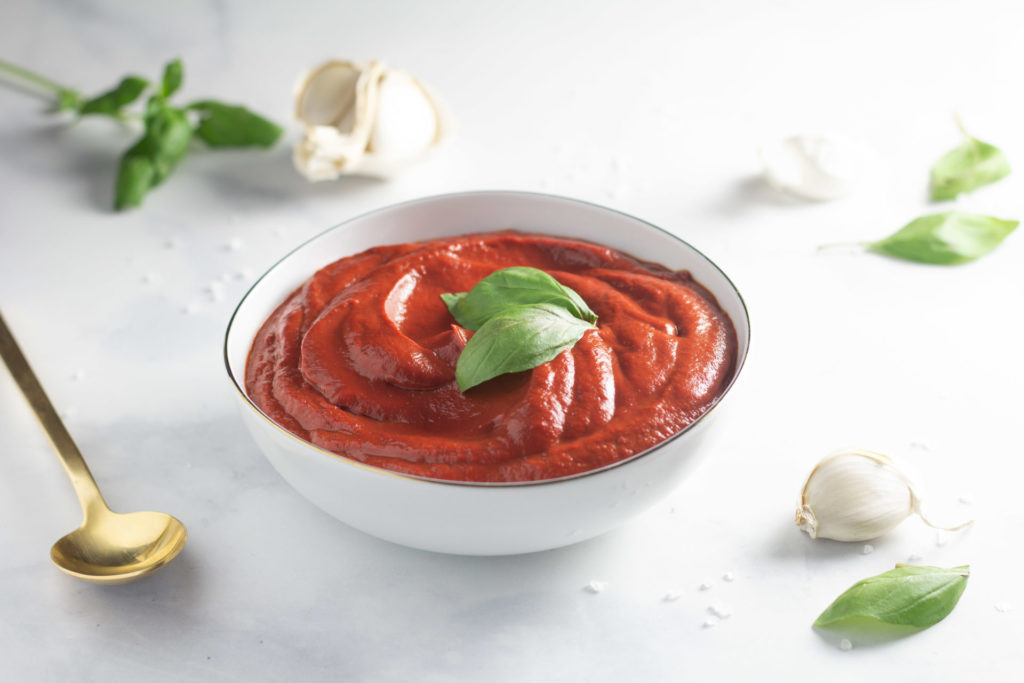 Nightshade-free Marinara Sauce
I am so excited to share this nightshade-free marinara sauce recipe with you guys. I still cannot believe how something can taste so much like tomato sauce without any tomato in it. This recipe is for anyone who cannot tolerate tomatoes for whatever reason. Tomatoes are part of the nightshade vegetable family, and many of us with autoimmune diseases have trouble with these veggies. I was really bummed out when I had to give up tomatoes awhile back, especially because tomato sauce is just so abundant in so many recipes. But even if you don't have any issues with tomatoes, give this recipe a try because it is packed with nutrients.
My husband was actually the one who inspired me to try my luck with a nightshade-free marinara sauce. He is very experimental in the kitchen, and one day he made a dish for us and the taste reminded me so much of tomato. I still have to convince him to write down the recipe for us :). He used blackstrap molasses and coconut aminos to create that flavor. This sparked my curiosity to try my luck with a nightshade-free marina sauce.
Ingredients in the Nightshade-free Marinara Sauce
Following the exact recipe is important for this one, so I wouldn't initially experiment with it. All of the ingredients are responsible to create a specific flavor.
Vegetables: The base of this sauce is a mix of cooked vegetables. For this recipe, you will use onions, garlic, carrots, celery, and beet. This makes for a very nutrient-dense base as all of these veggies come with a different micronutrient composition.
Extra virgin olive oil: I used this oil to fry the vegetables before simmering them. This gives a great flavor to the recipe. Olive oil is one of the traditional oils used in Italian recipes, I would therefore not exchange it. Make sure to use extra virgin olive oil, it is full of antioxidants and therefore more suited for being heated.
Bone broth: I love to sneak bone broth into many of my recipes to add more nutritional benefits and flavor to the recipes. Depending on what kind of bone broth you use, the consistency will be different. It can be thick if you use very gelatinous bone broth, which I normally do because it is more nutritious. My favorite is homemade broth simmered for at least a day. My favorite brand is Bonafide.
Herbs: To create the flavors of a marinara sauce I use a lot of fresh basil. Make sure that the 1/4 cup is packed not loose. I also used dried oregano.
Lemon juice: The fresh lemon juice is there to balance out the natural sweetness of the beets and the carrots. Tomato sauce is quite acidic and to mimic this I used lemon juice.
Condiments: I used a hint of coconut aminos, blackstrap molasses, and red wine vinegar to create the ultimate tomato flavor. Don't leave out this step. I have recently tried this sauce without the coconut aminos and it was still great. In case you wonder what coconut aminos are, they are the perfect soy sauce substitute for anyone who is avoiding soy. The sauce is made from the fermented sap of coconut palm and you can find it in most health food stores. I started using coconut aminos a lot in my recipes lately and I highly recommend getting a bottle for your pantry. A little goes a long way, and can really spice up your recipes.
FAQ
Does it taste like beets or sweet? This is a common concern when it comes to "Nomato" sauces. No, it does not. It doesn't use that much beet and as described above I am using a bunch of other ingredients that are acidic to balance the flavors. It absolutely tastes like a traditional marinara sauce. Just make sure you follow the measurements precisely. Using cups and measuring spoons to get the right measurements.
Can I freeze it? Yes, you can. In fact, I love to do this so I always have some available to whip up something real quick. Wide mouth mason jars are great for freezing. You can upcycle glass jars from for example coconut oil etc. When freezing liquid in glass jars you want to leave a couple of inches headspace to make sure the glass doesn't break (see picture), especially if you are not using wide mouth jars. Also, let the jars with the sauce cool down to room temperature first and then refrigerate them for a few hours or overnight before freezing them. Simply place a frozen jar in the fridge the night before you want to use this sauce to defrost it.
Is it difficult to make? No, this nightshade-free marinara sauce recipe is quite easy to make. It requires some time to cook on its own but this is passive time. It is a great recipe to do during your weekly meal prep. Personally, I love to double up the recipe and freeze a few jars to have quick access to this delicious sauce.
How can I store it? You can either store it in your fridge for a couple of days or freeze it as mentioned above.
How to Enjoy this Sauce
Bolognese sauce: My favorite way to enjoy this sauce is as the base of a bolognese sauce on top of a baked sweet potato.
Pasta: Any kind of pasta you enjoy works well. If you follow the autoimmune protocol I recommend Jovial's cassava flour pasta or Sea Tangle's kelp noodles. If you have a thyroid condition read up about kelp noodles here.
Gnocchi: Store-bought Gnocchi works well or try my homemade sweet potatoes gnocchi (Paleo). Especially if you cannot have nightshades or grains as regular gnocchi contain both.
More Nightshade-free Recipes
I would love to hear from you in the comment section below if you make this recipe. Also, make sure to tag me in your food pictures on Instagram.
Happy cooking,
Annika
| | |
| --- | --- |
| | |
Wash and chop the carrots, celery, and beets into medium dice. Peel and chop the garlic and onion into medium dice as well.

Heat a medium pot over medium heat. Once hot, add olive oil and fry onion and garlic until translucent. Add the rest of the veggies and fry for a few minutes. Add bone broth and a lid and cook for about 20 minutes or until the veggies are all soft. If the pot boils too much bring the temperature down to medium-low.

Pour everything from the pot into a high-speed blender. Add basil and the rest of the ingredients. Make sure when you measure the basil that the cup is packed. Blend on high speed.

The sauce will be quite thick, so If you would like it thinner either add bone broth or more water. Store it in the fridge in a glass jar for a couple of days or freeze it.
Tips
Depending on what kind of bone broth you use, the consistency will be different. It can be thick if you use very gelatinous bone broth, which I normally do because it is more nutritious. My favorite is homemade broth simmered for at least a day. My favorite brand is Bonafide.