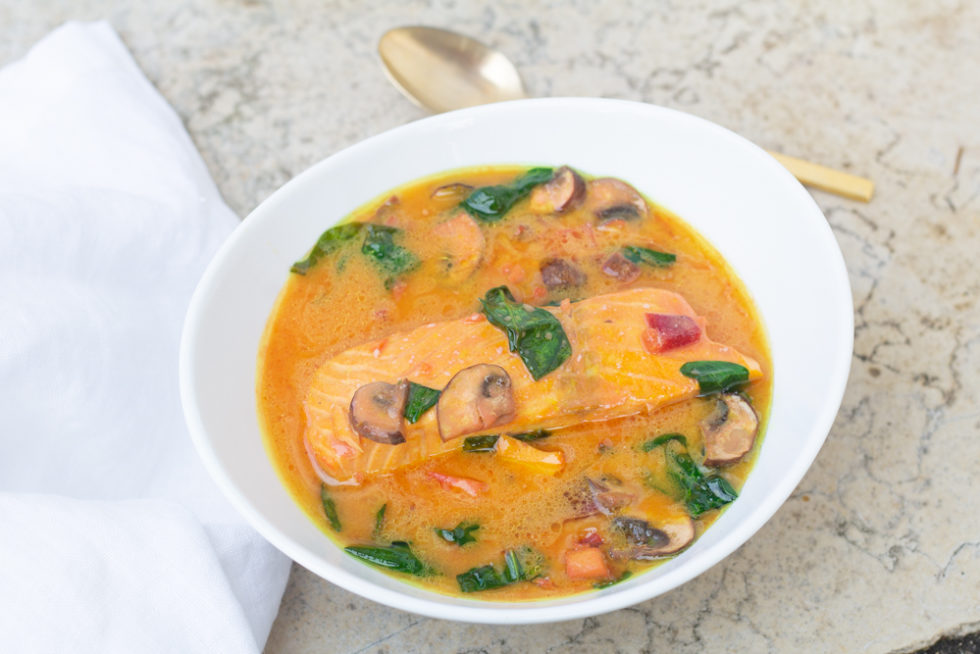 Coconut "Thai Curry" Soup with Salmon
This delicious coconut "thai curry" soup is nourishing and packed with incredible flavors. It is AIP, Paleo, nightshade free, gluten, and dairy free. It is the perfect meal for your weekly batch cooking session since it is easy to make, tastes great when heated, and makes for a balanced meal.
Coconut 'Thai Curry" Soup with Salmon
I am so excited to share this recipe with you guys because it is one of my new absolute favorite recipes. It has been on my weekly meal plan for the last 3 months because I cannot get enough of it. I am obsessed with Thai food and this is a humble nod to a Thai coconut curry soup made compliant for people who follow the autoimmune protocol and with my own twist. The flavor is incredible and it will fill you up for hours because this soup has ample protein, healthy carbs, and a good amount of fat. And it looks very pretty too.
Ingredients in Coconut "Thai Curry" Soup with Salmon
Sulfur rich vegetables (and fungi): Onions, garlic, and mushrooms are not only very healthy but also give a lot of flavors.
Starchy carbs: Parsnips and beets add healthy whole foods sources of starchy carbohydrates and fiber. The beets are also responsible for the beautiful color.
Flavor rich ingredients: The ginger makes the soup slightly spicey and gives it a kick. The lemon gives it acidity and a lovely flavor. The turmeric powder gives it color and a bit of a curry flavor. And then of course the salt enhances all the flavors.
Bone broth: Whenever I get a chance to sneak bone broth into a recipe I do. It is gut healing and flavorful. My favorite is homemade.
Coconut milk: Coconut milk makes for the typical flavor and texture of a Thai curry soup. It also gives a good dose of healthy fats to this dish. Always buy canned full-fat coconut milk. Preferably without any additives, the fewer the better. The best option is just coconut and water as the ingredients. Also, opt for a BPA free can. The cream will rise to the top, especially if you put it in the fridge overnight. I like this brand.
Salmon: You will get a great amount of protein and healthy fat from salmon. Opt for wild-caught. You can use frozen or thawed salmon for this recipe.
Leafy greens: The baby spinach gives you a good dose of leafy greens.
Substitutions and Adjustments
Parsnips: You can use another starchy vegetable like sweet potato or potato if you tolerate it. If you are doing better with fewer carbs you can also leave it out.
Adjust the macronutrient ratios: To make the meal work for you, feel free to adjust the macronutrient ratio (how much protein, fat, and carbs you need in a meal) to your liking. Add more or less starchy vegetables as mentioned above. You can add more salmon to make it more protein-rich. If you want to adjust the fat content add more coconut milk to make it fattier or more broth in case you want to add less fat.
Spinach: I love spinach in this recipe because of the texture but you can also use other leafy greens like chard, kale, or collard greens.
Lime: If you cannot access limes you can also use a lemon, I would start with half a lemon first because they are bigger.
More Recipes Ideal for Meal Prepping
I cannot wait for you to try this recipe and would love to get your feedback, please leave a comment below. And as always don't forget to tag me in your food pictures on Instagram
Happy cooking
~Annika
Coconut "Thai Curry" Soup with Salmon
This delicious coconut curry soup is nourishing and packed with incredible flavors. It is AIP, Paleo, nightshade free, gluten, and dairy free.
Ingredients
1

small

onion, diced

3

cloves

garlic

1

cup

parsnip, small dice

(approx. 1 parsnip)

1

cup

fresh beets, small dice

(approx. 2 small beets)

2

cups

mushrooms, sliced

(approx. 8 medium mushrooms)

2

Tbsp

fresh ginger, minced

extra virgin olive oil

or other cooking fat of choice for frying

1

cup

bone broth

2

cans

coconut milk

4

4-6 oz

salmon fillets

1

lime

1/2

tsp

turmeric

salt

2

cups

baby spinach, packed
Instructions
Peel and chop the onion, garlic, parsnips, beets, and ginger. Wash and slice the mushrooms.

Heat a medium/large pot over medium heat. Once hot add a splash of olive oil. Fry the onion and garlic for about a minute, until translucent. Add parsnips, beets, mushrooms, and ginger and fry for a few minutes.

Add the bone broth and coconut milk. If you are using frozen fish you can add it in right from the beginning. If it is fresh add it in after 10 minutes of cooking the soup. Cover the pot with a lid and bring the soup to a light boil, reduce the temperature to medium-low and cook for about 15 minutes, or until the parsnip and beets are fork-tender.

Once done add the fresh juice of 1 lime, turmeric, and salt to taste. Add in the spinach and let it wilt for about a minute. Serve hot or store in the fridge for a few days or freeze individual portions.
Are you enjoying my ad-free content? To keep it like this, here are some ways you can support my work: