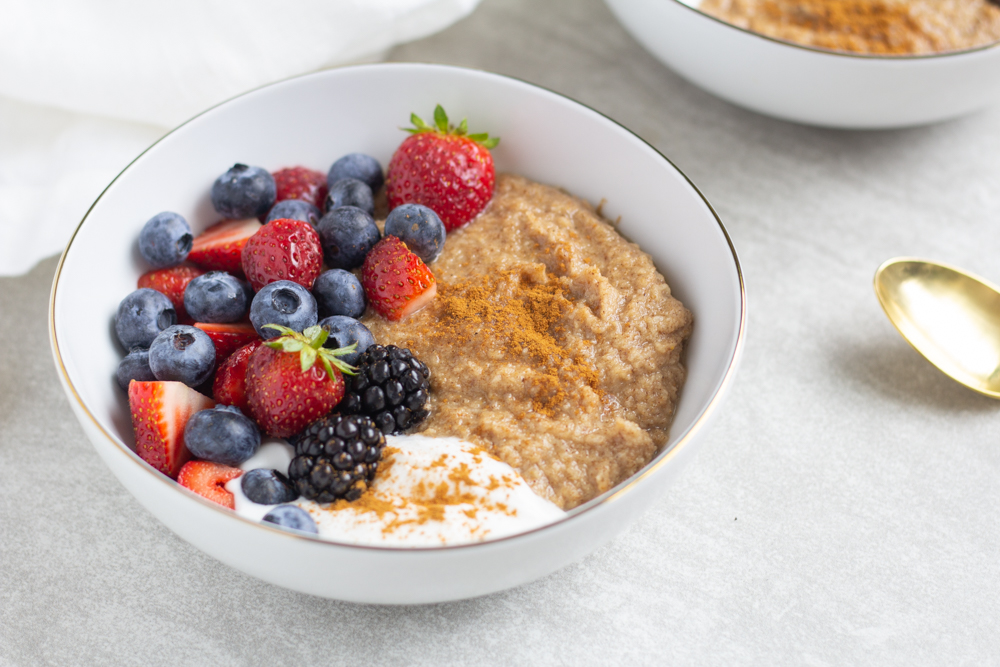 5 Minute Grain-free Oatmeal
This creamy, delicious grain-free oatmeal recipe will be your new favorite comfort breakfast. It is gluten and dairy free, paleo, and AIP.
For the grrain-free oatmeal
3/4

cup

water

1

cup

pure traditions instant farina

(made from tigernut flour)

2

scoops

protein powder

(adjust to your needs)

1

tsp

cinnamon

1

tsp

whole bone calcium

(optional, see notes)
Boil the water.

In the meantime combine the farina, protein powder, cinnamon, and any supplement you want to add in a medium bowl. You could also mix it directly in the bowls you will be serving the oatmeal in. Simply use half of the ingredients for each bowl if you choose to do that.

Add the hot water and stir. Let it sit for a minute until it becomes thicker. You can adjust the consistency by adding more or less water.

In the meantime wash and cut the fruit. Once the oatmeal has the desired consistency add it to two serving bowls. Add 1 Tbsp of coconut yogurt to each and finish up by adding the fruit. You can sprinkle a little extra cinnamon on top if you like.

Enjoy!
If you are doing this recipe for yourself simply use half to the ingredients. 
Prepare the dry mix the night before for a super quick 1-minute breakfast.
Buy the instant farina here. 
This recipe is a great way to sneak in powdered supplements. Always consult with your physician before adding a supplement. I added whole bone calcium to this recipe because for many people on a dairy-free diet it is quite tricky to get enough calcium. If you are getting enough calcium in your diet you don't need this step because overconsumption of calcium is not good either. Talk to a nutritionist if you are unsure if you are getting enough calcium. 1/2 tsp of the whole bone calcium provides you with 70% of the RDA for calcium. Adjust the amount to your personal needs.