Easy Rhubarb Compote
This easy rhubarb compote is full of flavor, easy to make and perfect as a topping for various dishes. Or if you are like me and love rhubarb you can just eat it with a spoon. It is gluten and dairy free, refined sugar free, Paleo and AIP.
Easy Rhubarb Compote
Rhubarb season is quite short, and every year I am so excited when I see the first rhubarb in my farm box. I have always loved the tartness and taste of rhubarb. You can tell that I love rhubarb by how many rhubarb recipes I have on my blog, and there is another one coming your way, very soon. One of my favorite ways to enjoy it is with pancakes. I have an AIP crepe recipe that has been long overdue coming up, so get excited to enjoy those two together.
Ingredients in Rhubarb Compote
Rhubarb
Honey
Cinnamon
Sea salt
Filtered water
Ways to Enjoy this Rhubarb Compote
More Rhubarb Recipes
I cannot wait for you to try this recipe and would love to get your feedback, please leave a comment below. And as always don't forget to tag me in your food pictures on Instagram.
Happy cooking
~Annika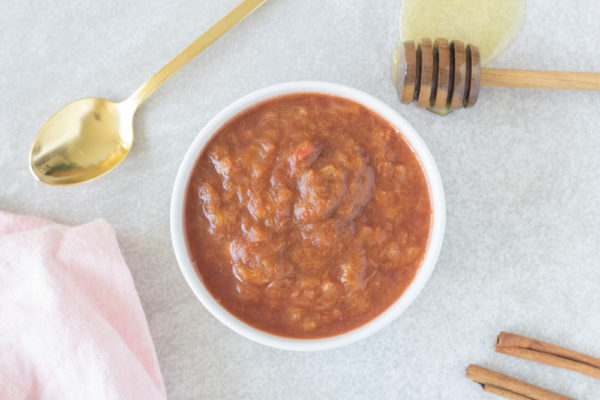 | | |
| --- | --- |
| | |
Wash and trim the ends of the rhubarb. Cop it into 1/2 inch slices.

In a small pot add the rhubarb and water. Cover with a lid and cook on medium heat for 5 minutes. Remove the lid, add honey, cinnamon, and salt. Stir and cook until all the rhubarb is cooked through, for about another 5 minutes. If it is too watery you can cook it for another few minutes until it becomes thicker.

Store in a glass or stainless steel container in the fridge for about a week, or enjoy immediately.