Creamy Asparagus Soup
This creamy, asparagus soup is the perfect spring recipe, featuring a wide variety of vegetables. It is gluten and dairy free, paleo and AIP compliant.
Creamy Asparagus Soup
I am so excited to finally share this recipe with you. This creamy asparagus soup recipe was originally supposed to be part of my book "ENJOY – healthy festive meals for you and your loved ones". But I ran out of time to test it again so I decided to leave it out. Since it is officially asparagus season now, you can get these gems at your local farmer's market. I thought what better time to publish this recipe. I cannot wait for you to try it as it is super delicious, creamy, and full of flavor.
It is the perfect recipe if you want to impress your guests with a fancy dinner. The good news is, it is actually very simple to make. Besides tasting super yummy this creamy asparagus soup is packed with super-nutritious ingredients featuring tons of veggies and gut-healing bone broth.
Ingredients of this Creamy Asparagus Soup
Asparagus
Onion
Garlic
Celery
Carrots
Leeks
Bone Broth: The best bone broth is homemade. If you have never tried to make your own, check out my simple bone broth recipe here.
White Wine
More Soup Recipes
As always feel free to adjust the flavor to your liking as described in the recipe below. So next time you visit your local farmers market, grab two bunches of asparagus and make this delicious soup. I hope you love it as much as I do.
For questions and feedback please use the comment section below and if you make this recipe please tag me on Instagram. It always makes me very happy to see when you guys make my recipes.
Happy cooking
~Annika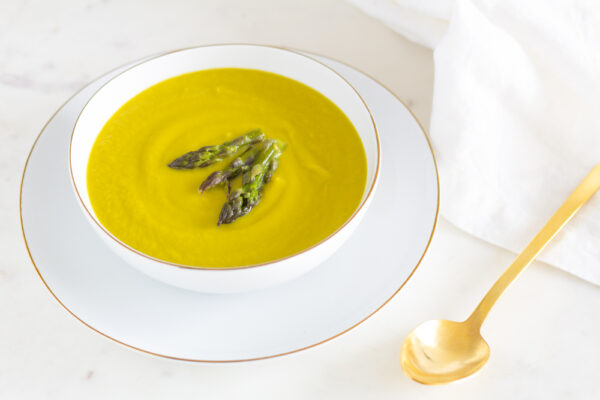 | | |
| --- | --- |
| | |
Peel asparagus on a sturdy surface and cut the ends. Place the peels and ends in a medium pot, cover with water, cover with a lid, heat on medium heat and cook for 15 minutes. Pour the asparagus peels through a strainer and save the water.

In the meantime cut the asparagus into smaller pieces. Cut the carrots into small pieces, cut the leek and celery. Set it all aside. Peel and cut onion, peel and dice garlic.

Heat a medium pot over medium heat (reuse the same pot from before). Once hot add enough avocado oil to coat the pan. Add onion and garlic and fry until translucent. Add all the other vegetables, the bone broth, and the asparagus peel water. Cover with a lid and cook for 15 minutes or until the veggies are tender.

Take out a few tips of the asparagus to save for the garnish. Pour the rest into a blender and puree. Add salt, and pepper, and white wine to your liking. Start with a few tablespoons of wine and taste until you reach the desired taste. Heat up for a couple of minutes. You can adjust the soup to your liking by adding more broth to make it less thick and by adding more or less wine.

Serve and add the asparagus tips as a garnish. Enjoy!
Contrary to popular belief, alcohol does not cook out completely. If you are very sensitive to alcohol simply omit it during the elimination phase of the autoimmune protocol.