Bolognese Sauce
This delicious bolognese sauce is comforting and versatile. I love to use it with pasta or baked sweet potatoes, the options are endless. This recipe is gluten and dairy free, Paleo and AIP friendly.
Bolognese Sauce
What is more comforting than a home-cooked bolognese sauce? It is so easy to make and a great meal prep recipe. Simply double up the portion and freeze the rest. I know spaghetti bolognese comes to mind right away but there are so many other ways to enjoy this delicious sauce. I am using my homemade nightshade-free marinara sauce for this recipe. Which makes this recipe AIP. Yay! If you don't have a problem with tomatoes you can also use storebought marinara sauce. Get excited because this recipe will be your new favorite!
Tips to Make this Bolognese Sauce
Marinara sauce: I created this with my homemade nightshade-free marinara sauce which is AIP. It is very flavorful and full of nutrients. The recipe calls for bone broth. Depending on what kind of bone broth you use, the consistency will be different. It can be thick if you use very gelatinous bone broth, which I normally do because it is more nutritious. I, therefore, added water as an optional ingredient to make the bolognese sauce less thick. I recommend you double up the nightshade-free marinara sauce when you make it and keep some in the fridge to whip up this recipe real quick. If you tolerate tomatoes you can use a store-bought marinara sauce as well. You may have to adjust the seasoning depending on the sauce you buy.
Adjust it to your liking: Feel free to add more marinara sauce if you like it saucier and adjust the seasoning to your liking.
Food prep: This is a great food prep recipe. Simply double up the recipe. It freezes and stores well in the fridge. It is one of those recipes that tastes even better the next day. Store the sauce separately from pasta or sweet potatoes otherwise, the sauce becomes dry.
Ways to Enjoy this Sauce
Pasta: Use whichever pasta you enjoy. If you follow the autoimmune protocol there is great news when it comes to pasta. Jovial just launched a really good cassava flour pasta. Use the instruction on the package to cook it.
Kelp noodles: I love the brand sea tangle. Simply Soak the kelp noddles in a medium-sized bowl in warm filtered water for 10-20 minutes and detangle them gently with your fingers. Once done rinse them. they will be very crunchy so it is important that they cook in the sauce for a couple of minutes until they have a soft consistency (about 5 minutes). A word of caution on iodine and kelp: If you have a thyroid condition talk to your doctor and nutritionist about including foods high in iodine before you do so. Although enough iodine is crucial for thyroid health, too much can actually trigger thyroid diseases as well. This specific brand contains 54.80 mcg of iodine per serving (a package has 3 servings). Keep that in mind.
Baked sweet potatoes: This is actually my favorite way to enjoy this sauce. Simply poke a few holes with a fork on each side of the sweet potato. Bake them at 400 degrees for about 30-40 minutes or until fork-tender. Once done slice them lengthwise and stuff them with as much bolognese sauce as you wish. I like to make my bolognese sauce quite thick and meaty when I use it to stuff sweet potatoes.
More Italian Inspired Recipes
I hope you love this recipe as much as I do. I would love to get your feedback, please leave a comment below. And as always don't forget to tag me in your food pictures on Instagram
Happy cooking
~Annika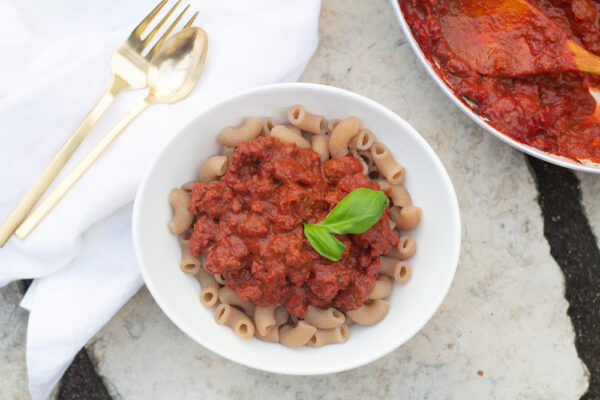 | | |
| --- | --- |
| | |
If you are doing the nightshade-free (AIP) version you will have to make my marinara sauce first. I always like to keep some in the freezer to whip this up faster.

Peel and dice the shallot. Heat a large pan over medium heat. Once hot add a splash of olive oil and fry the shallots for 1 minute or two until translucent. Add ground beef and fry until browned and no liquids are left (about 10 minutes). Season the meat with salt, garlic powder, and pepper.

Add the marinara sauce. Depending on the thickness of the marinara sauce you can add the water. My original marinara recipe can be thick if you use very gelatinous bone broth. Add more marinara sauce if you like it saucier. Cook the meat for a couple of minutes in the sauce. Taste and add additional seasoning to your liking.

Serve over baked sweet potatoes or pasta.

Freeze leftover sauce or store in the fridge for a couple of days.
Tip:
Double up the recipe. This is a great food prep recipe. Use all the whole recipe of the nightshade-free marinara sauce then.
Adjust the thickness of this sauce to your liking by adding a bit of water and/or more marinara sauce. I like it thicker to stuff sweet potatoes and a bit thinner for pasta.